About Broadway Family Chiropractic in Raynham
Dr. Downes has been helping those in the Raynham community since 1991. "I love my patients from Raynham and our surrounding areas. Helping my community not only feel better but HEAL better inspires me to continue practicing for over 24 years! "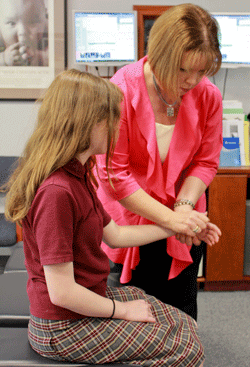 Our Philosophy | Structure Determines Function
At Broadway Family Chiropractic, we use a signature system of care and procedures, to get you healthy and feeling great.
This approach starts with research based spinal adjustment techniques that change posture and effect the way your spine and body moves and functions.  All are gentle, effective and feel good!
We say that "Posture is the window to the spine".  By improving your structural framework, it decreases the stress on your entire nervous system.  Not only does healthy posture look youthful, having this balance can protect you from pain, joint wear and tear and "dis-ease" in many of the body's systems.
Holistic Care That's All Inclusive
We provide holistic care through a combination of:
Lifestyle recommendations
Orthotics for postural support if needed.
We want you to feel your best! So, we'll cater to your wellness needs and help you find the relief you've been wanting.
A Team Effort for Success
Our team will do our best to educate you so that you can make smart decisions related to your health throughout your entire life. "We strive to make every visit a learning experience (and a fun one for that matter)!"
In addition to Dr. Downes, we have an invaluable team member, Danielle. "She is a walking testimony of how incredible chiropractic care is. And, she'll make your visits with us comfortable and informative."
Want to see how we can help? Contact our Raynham Chiropractic office to book your Spinal Check-Up for just $40!
---
Dr. Margie Downes | Raynham Chiropractor | (508) 824-1700